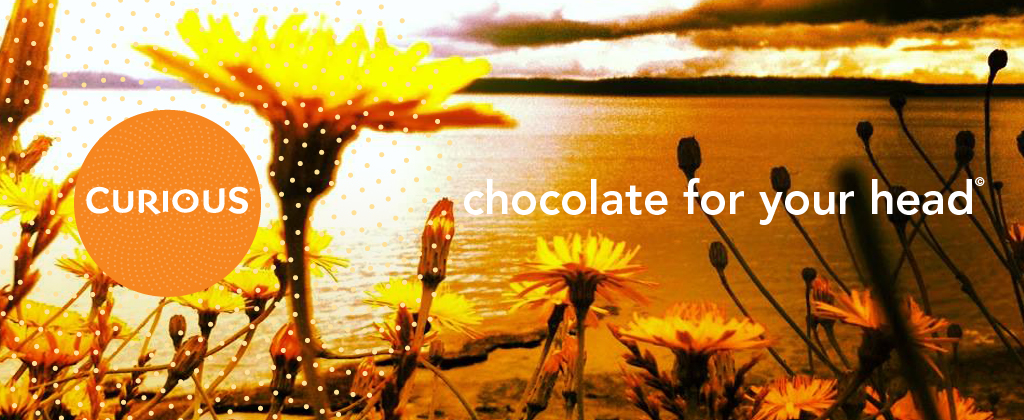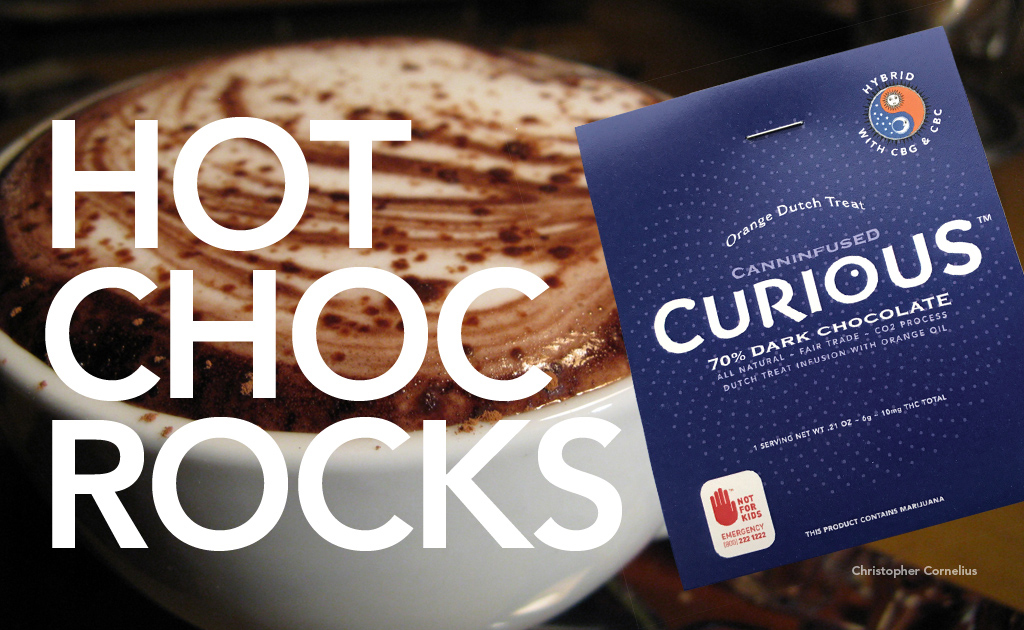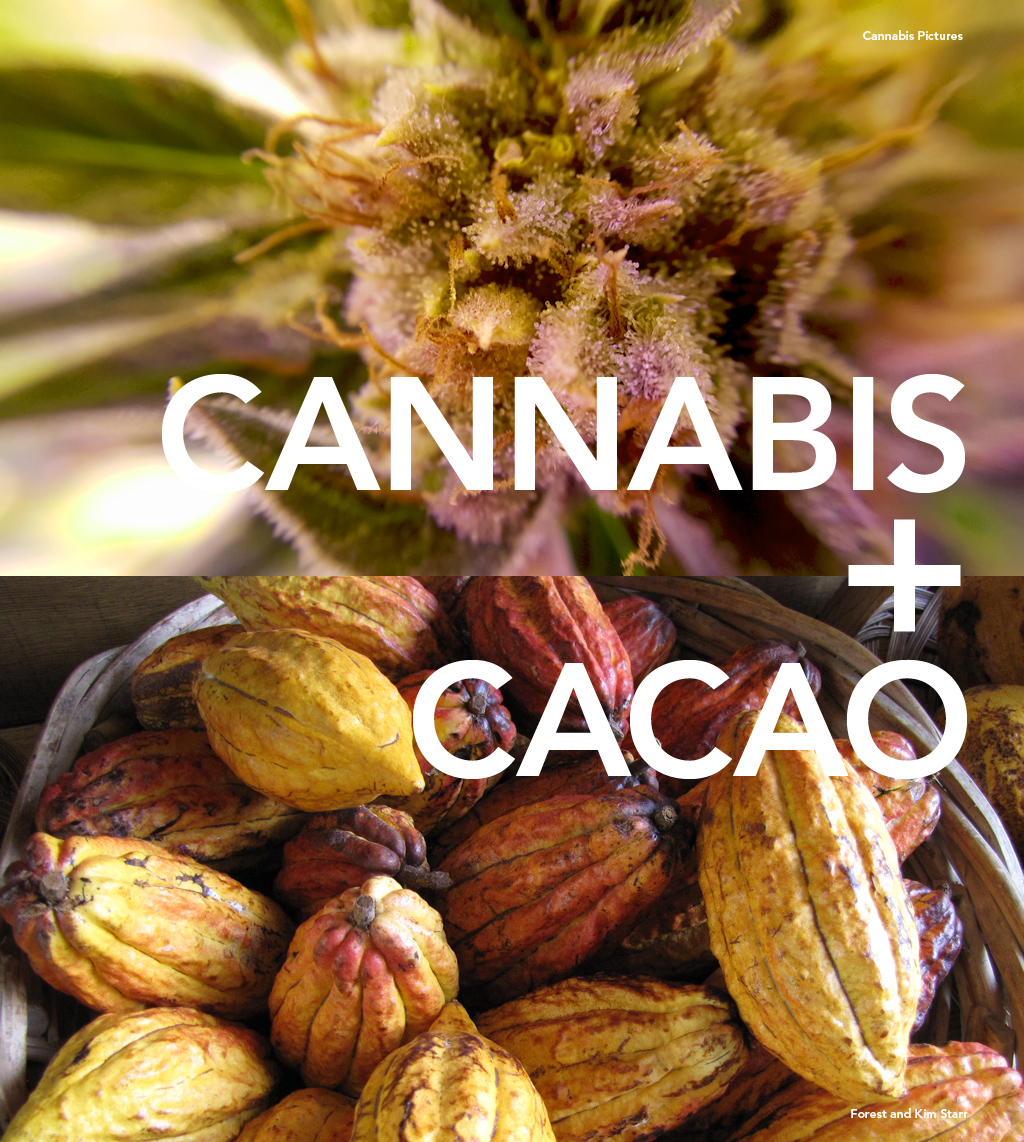 Curious is possibly the happiest accident ever. Born as a celebration of new life, we created our first chocolate delight. Our fresh experience with chocolate edibles transcended everything before. Discovering the combination of cannabis and chocolate reveals an almost mystical pairing. Over time, our vision emerged: to share the joy and wonder of our first delicious chocolate edible with other Curious adults.
A decade and a half later, we're thrilled to offer Curious for adult recreational use. Every step in our process is scientifically designed to deliver the feeling of joy we experienced in our first batch.
Curious is the finest organic sourced, Fair Trade chocolate edible available anywhere. Packed with Theobromine and flavinoids to compliment nature's cannabinoids and terpenes, Curious delivers enhanced longer lasting effects – a super-entourage of delight. Our strain-specific, organically sourced ingredients are processed using clean CO2 extraction and crafted in small batches. Fair Trade means everyone from farmer to chef gets paid fair value.
We're thrilled to offer these outstanding strains for your delight.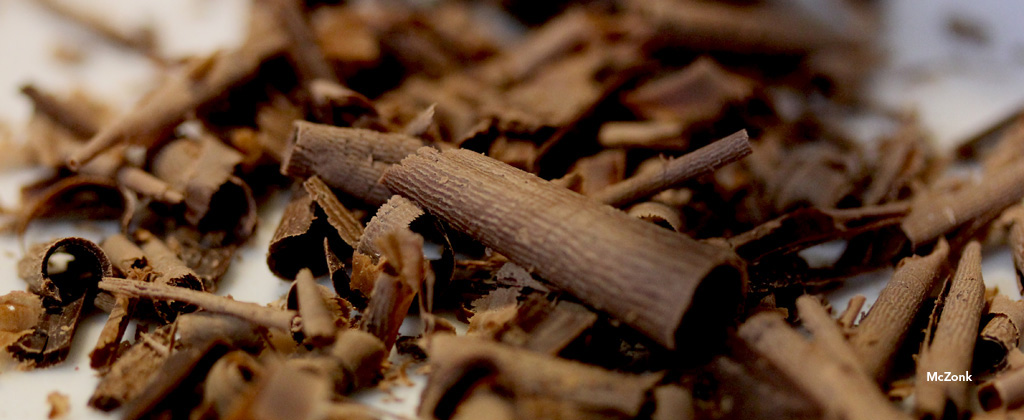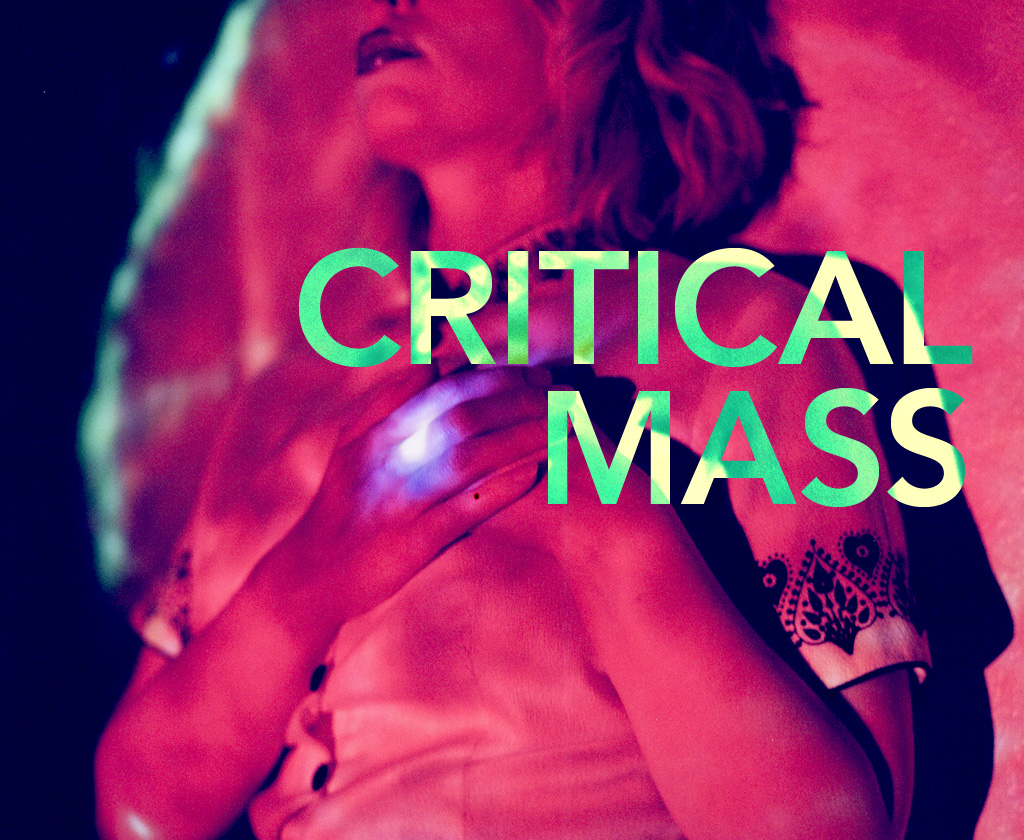 Okanogan Critical Mass
Grown in the pure high soil of Washington's Okanogan region, this Indica is a delightful night-time strain. Soothing, calming and relaxing, Critical Mass will float you to that comfy place.
"...we like this strain mostly as an evening relaxer for days when a little mental uplift and a few hours on the couch leading into sleep is the perfect recipe. One reviewer fell asleep earlier than normal, and awoke feeling wonderful." -potguide.com
Our Okanogan Critical Mass Indica is loaded with Humulene and Caryophyllene terpenes for a fully soothing and relaxing experience. Our Critical Mass flower is outdoor grown, pesticide-free and processed with solventless CO2.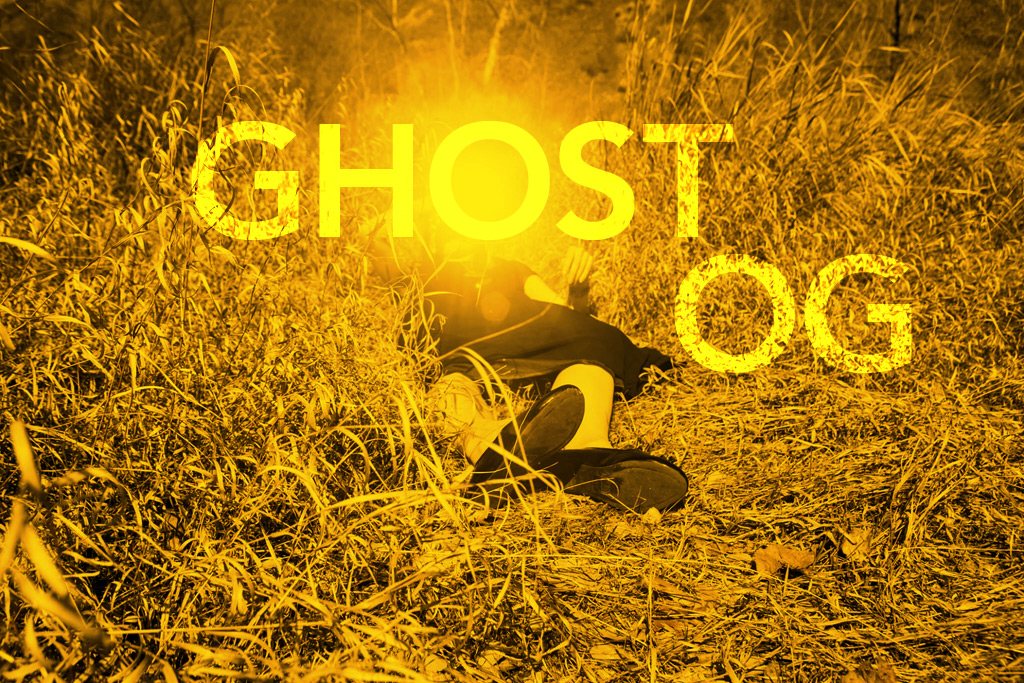 Okanogan Ghost OG
Also grown in the high country of the Okanogan, this hybrid is a fun and uplifting day-time strain. Social, happy and bright, Ghost OG goes great with music and good times.
"Floaty and cerebral, the high comes on strong at first but is never pushy. It takes the user on a ride full of positivity and laughter...really social – it's truly one of the most amazing and unique strains in the world." -potguide.com
Our Okanogan Ghost OG sativa dominant hybrid is packed with Pinene, Myrcene, Limonene, Humulene and Caryophyllene. Curious chocolate is infused with clean, solventless CO2 extracts processed from pesticide-free outdoor grown flower.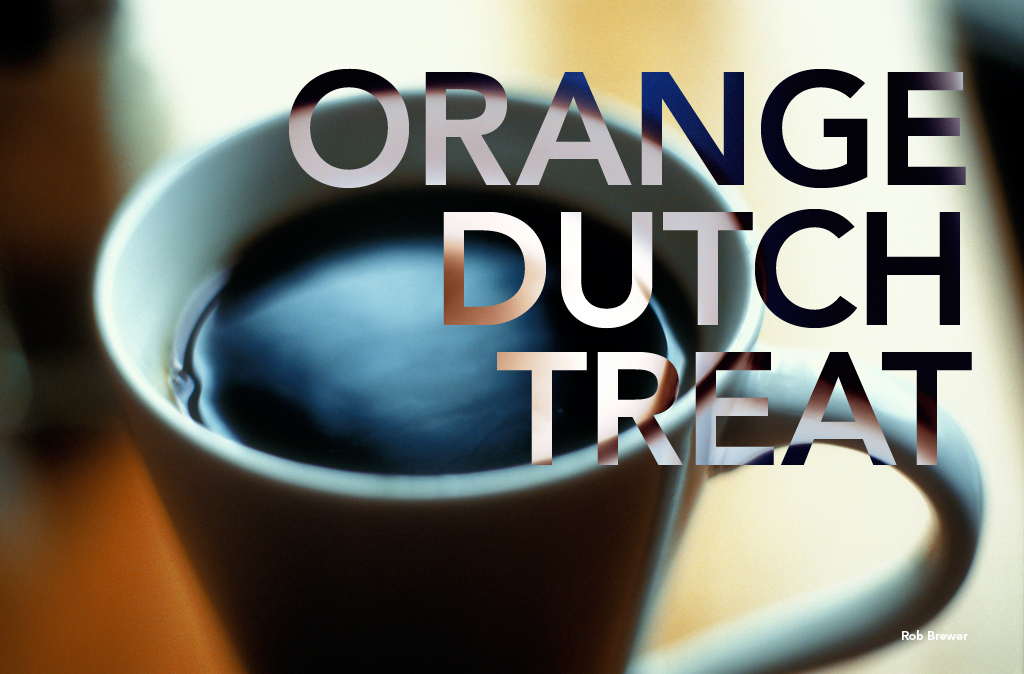 Orange Dutch Treat
This sativa-dominant hybrid is a bit of a Chesire cat: bright, uplifting and happy with a mellow finish typical of Dutch Treat. We were delighted to find elevated levels of CBG and CBC in this pesticide-free indoor-grown strain.
"...a euphoric head rush. Rather than cerebral stimulation, Dutch Treat brings emotional uplift that lends itself to sociability and some talkativeness. The head high soon gives way to a wash of physical relaxation." -wikileaf.com
Our Dutch Treat chocolate carries elevated counts of Caryophyllene and Humulene with a trace of Terpinolene. We chose to pair our infusion with a hint of organic orange oil for a fresh coffee house experience.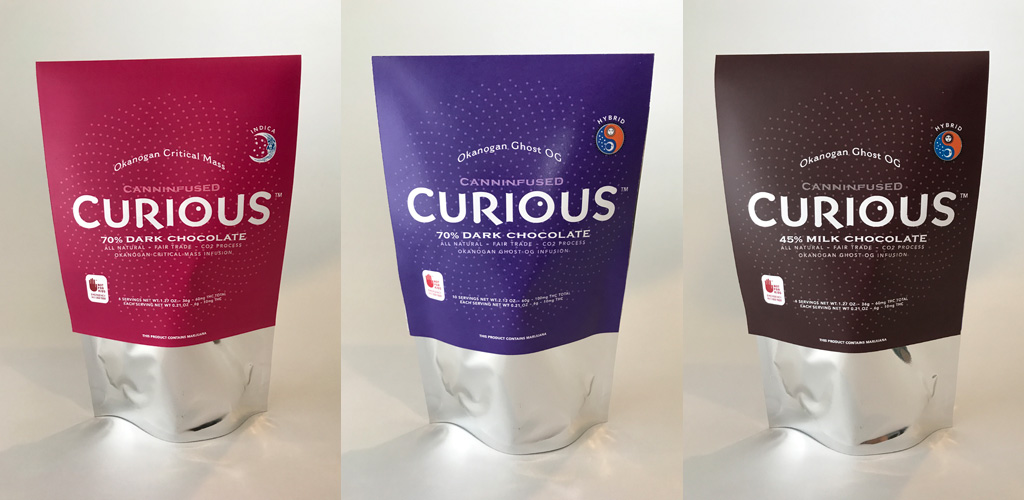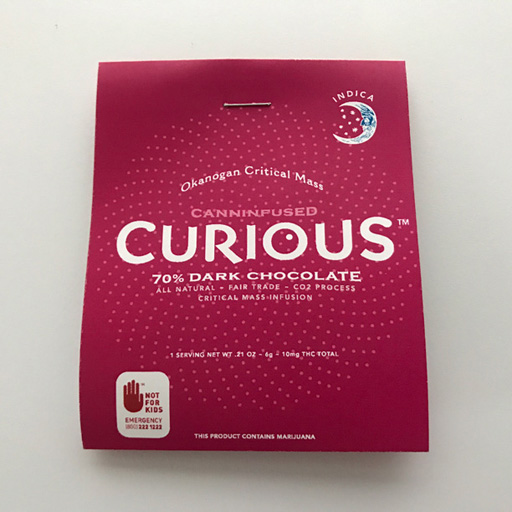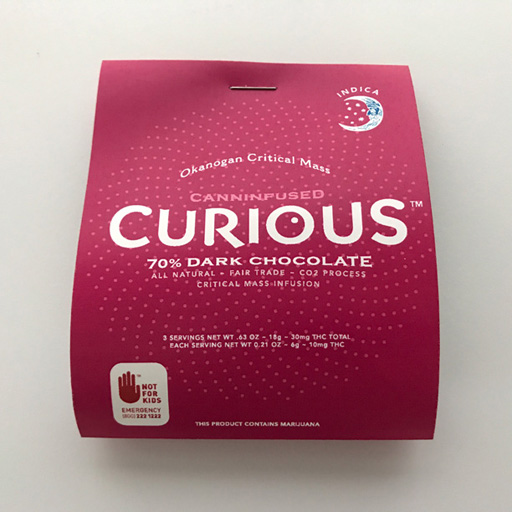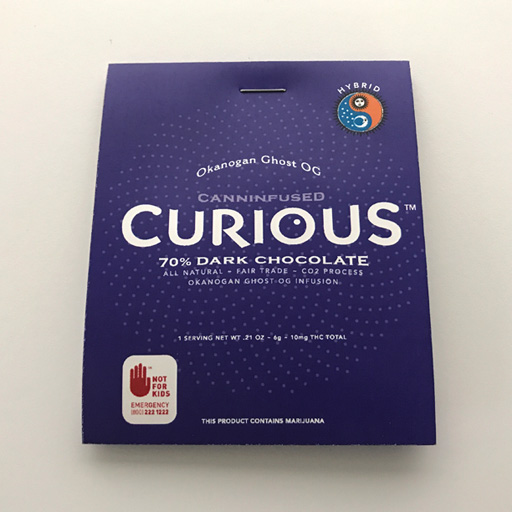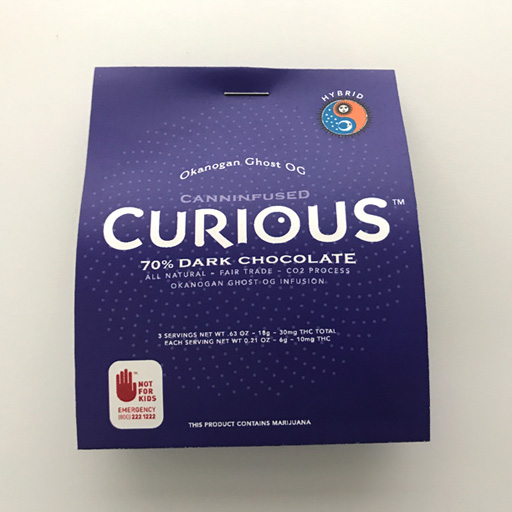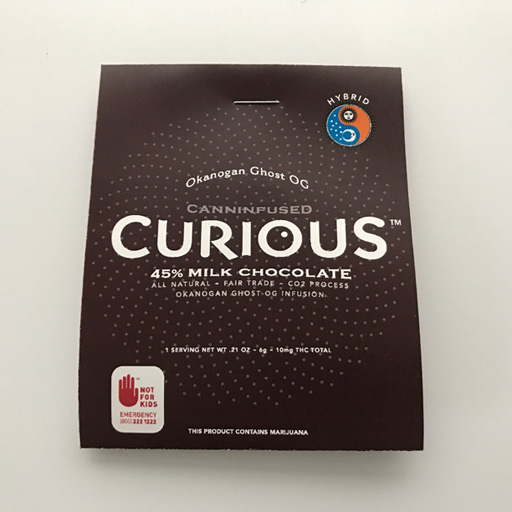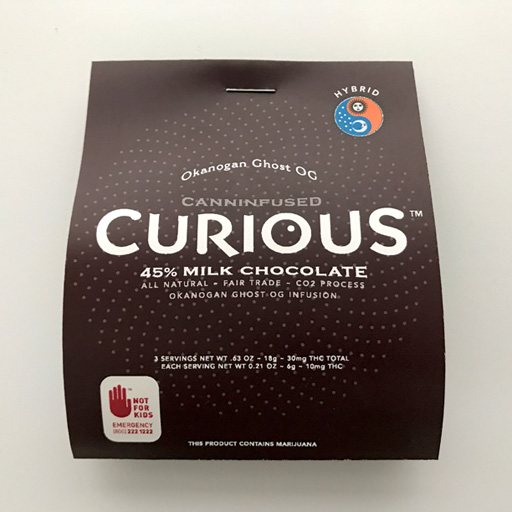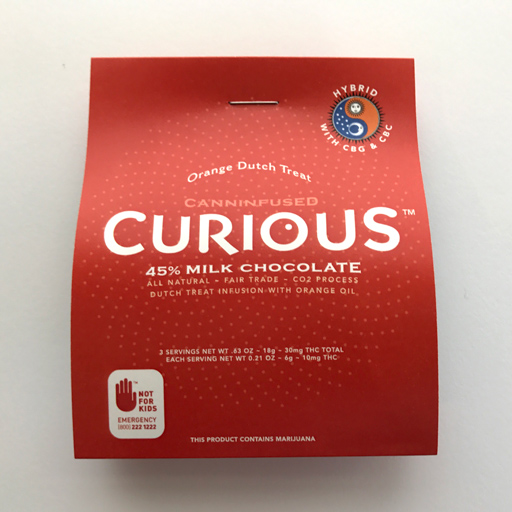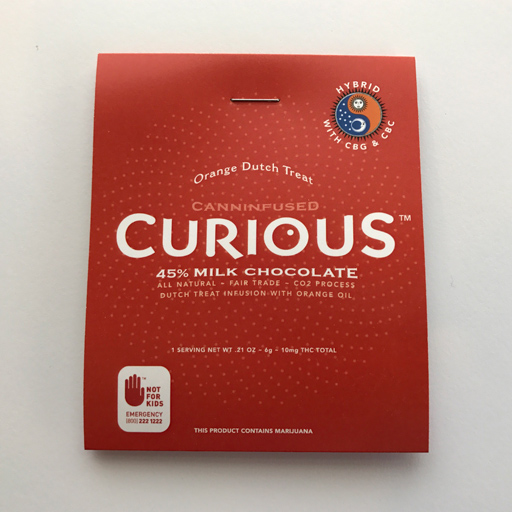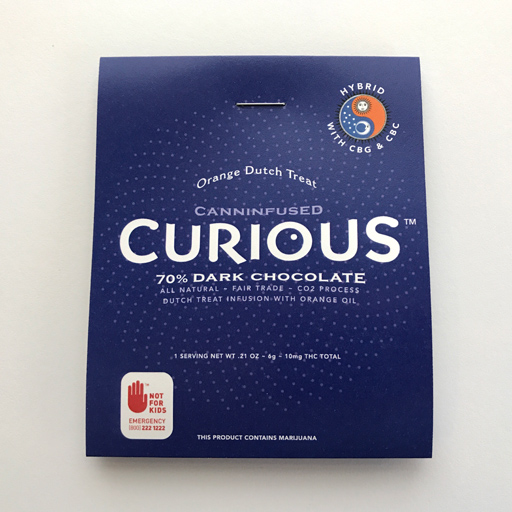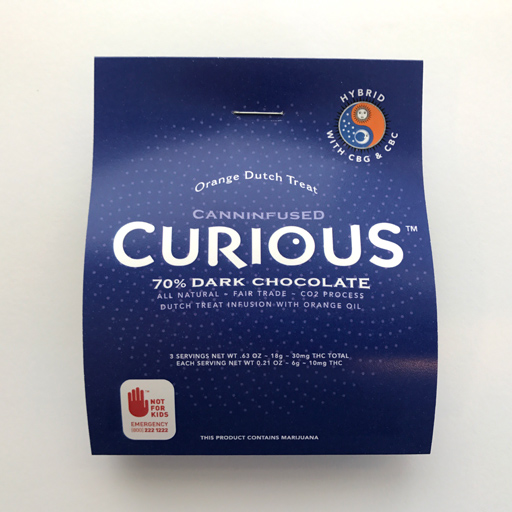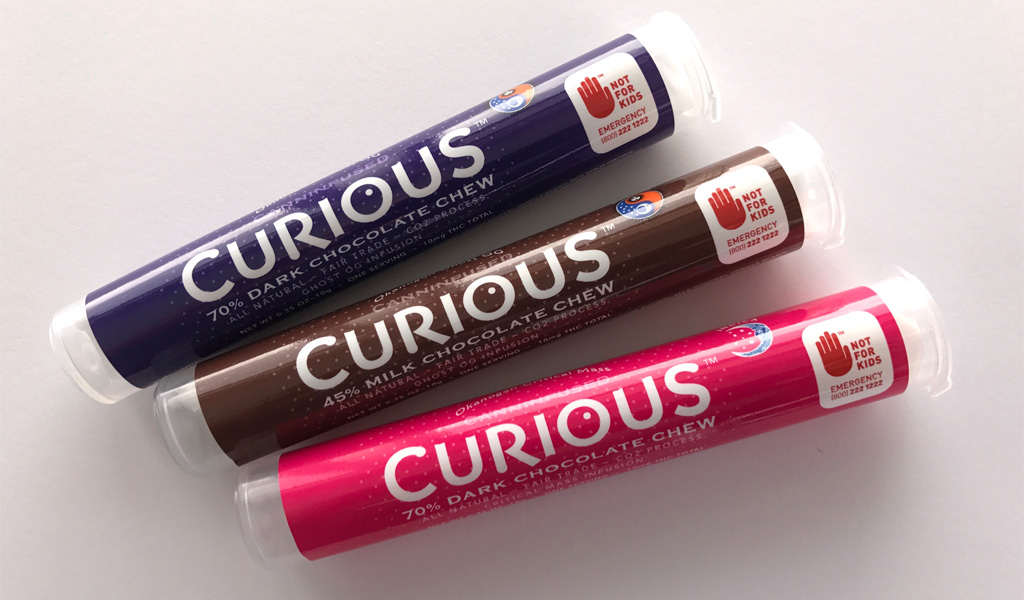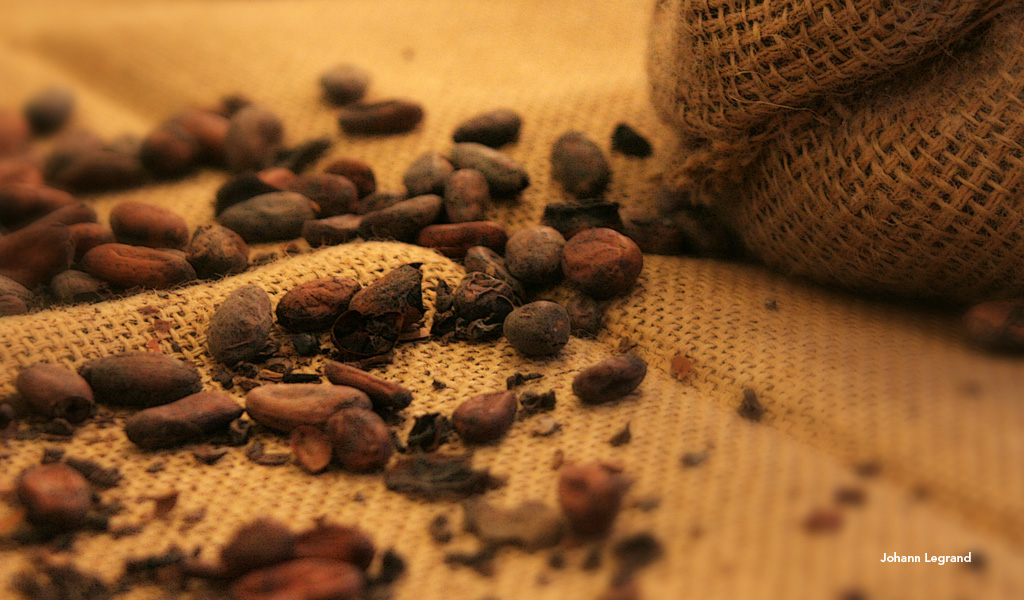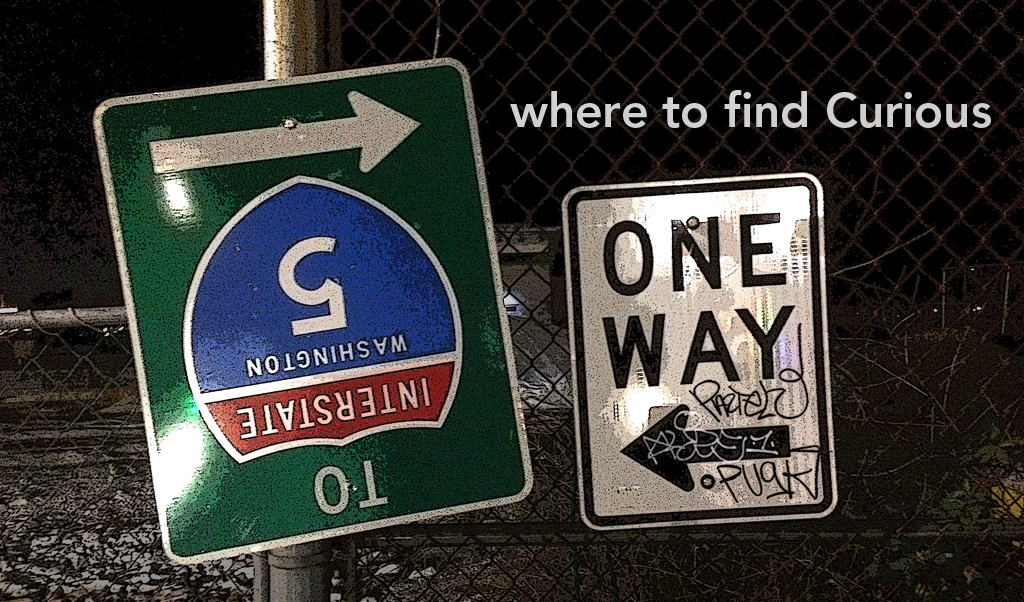 Get Curious at these very fine 21+ recreational stores
---

Paper and Leaf | 8040 NE Day Road West, Bainbridge Island WA 98110
---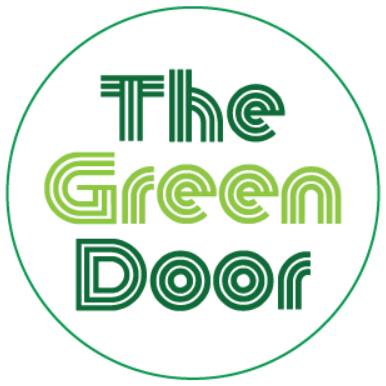 The Green Door Seattle | 828 Rainier Ave S, Seattle WA 98144

---

Canna West Seattle | 5435 California Ave SW, Seattle WA 98136

---

Higher Leaf Bellevue | 3079 156th Ave SE, Bellevue WA 98007
Higher Leaf Kirkland | 12525 Willows Rd #10, Kirkland WA 98034

---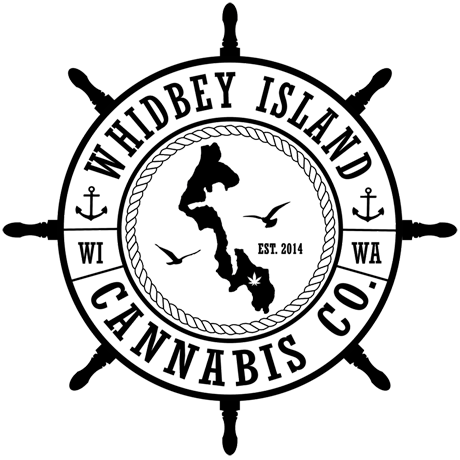 Whidbey Island Cannabis Company | 1860 Scott Rd, Freeland WA 98249

---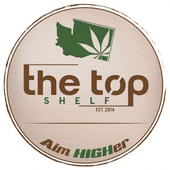 The Top Shelf | 1305 South Hayford Road, Spokane WA 99224

---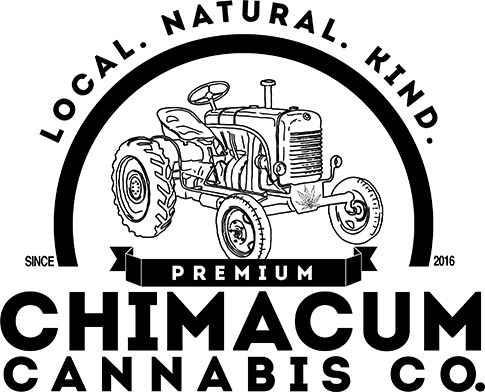 Chimacum Cannabis | 9034 Beaver Valley Rd, Chimacum WA 98325
---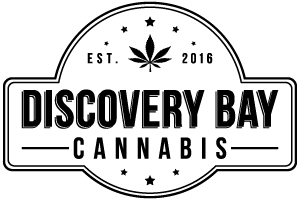 Discovery Bay Cannabis | 282023 US-101, Port Townsend WA 98368

---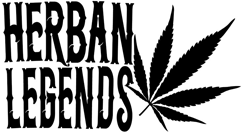 Herban Legends | 55 Bell Street, Seattle WA 98121
---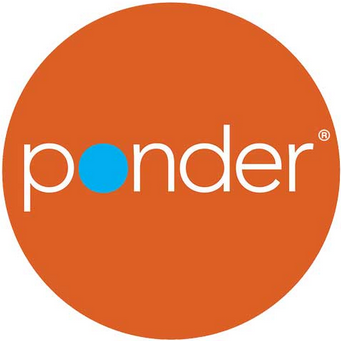 Ponder | 2413 East Union Street, Seattle WA 98122
---

Fweedom Mountlake Terrace | 21911 64th Avenue West, Mountlake Terrace WA 98043
---

Pot Stop | 4465 Fremont Ave North, Seattle WA 98103
---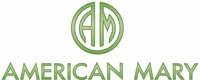 American Mary | 321 NE 45th Street, Seattle WA 98105
---

Sparket | 1215 East Front Street, Port Angeles WA 98362
---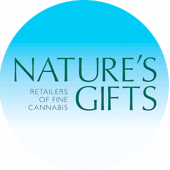 Nature's Gifts | 755 West Washington Street, Sequim WA 98382
---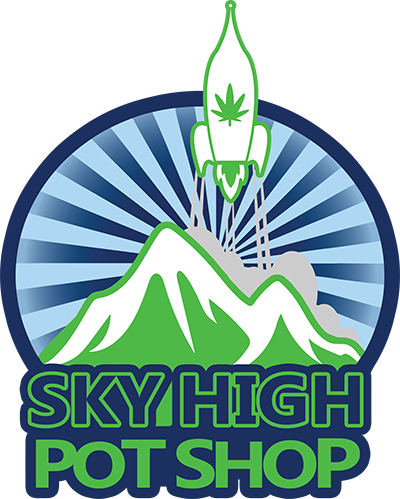 Sky High Pot Shop | 6167 Portal Way, Ferndale WA 98248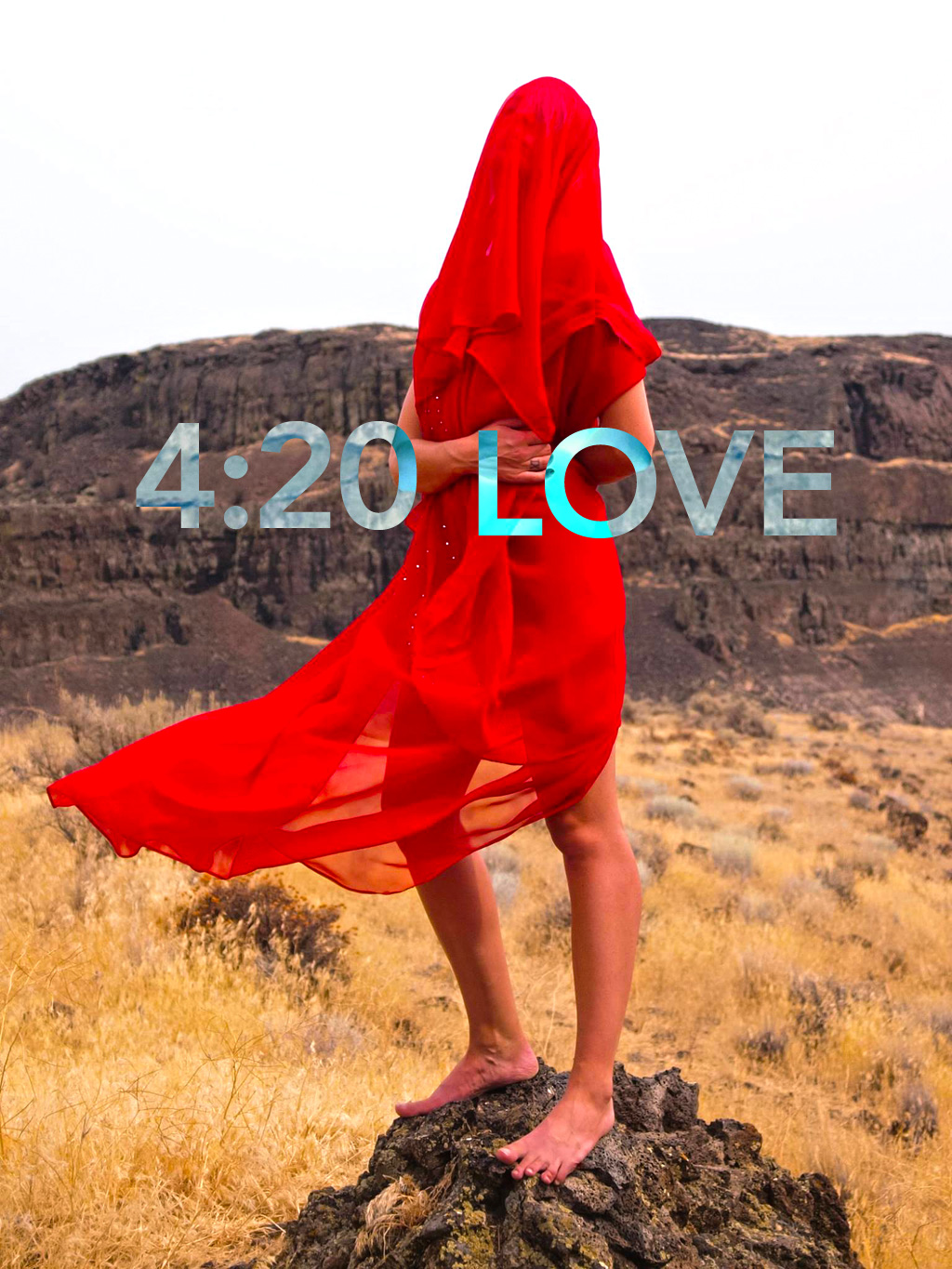 ---
Required Warning: This product has intoxicating effects and may be habit forming. Marijuana can impair concentration, coordination, and judgment. Do not operate a vehicle or machinery under the influence of this drug. There may be health risks associated with consumption of this product. For use only by adults twenty-one and older. Keep out of the reach of children.